West Fraser Timber Co. Ltd.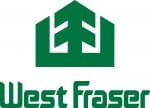 Business Description:
A leading diversified wood products company, West Fraser operates more than 45 manufacturing facilities in western Canada and the southern United States. Today, we are one of North America's largest lumber manufacturers and an established leader in sustainable forestry, high-efficiency wood product production and innovation in manufacturing. Our objective is to attain the best value from every log entering one of our operations. We use more than 95% of each tree we harvest, manufacture recycled-content MDF, and produce 65% of our energy needs sourced from the residuals of our wood manufacturing processes.
Learn more about the sustainable, renewable products we produce at: www.westfraser.com/products/
We fully utilize every part of a log
Some PEOPLE wait for the FUTURE. LEADERS create the FUTURE!
We are a proud member of the Canadian Wood Waste Recycling Business Group.
Business Name:
West Fraser Timber Co. Ltd.